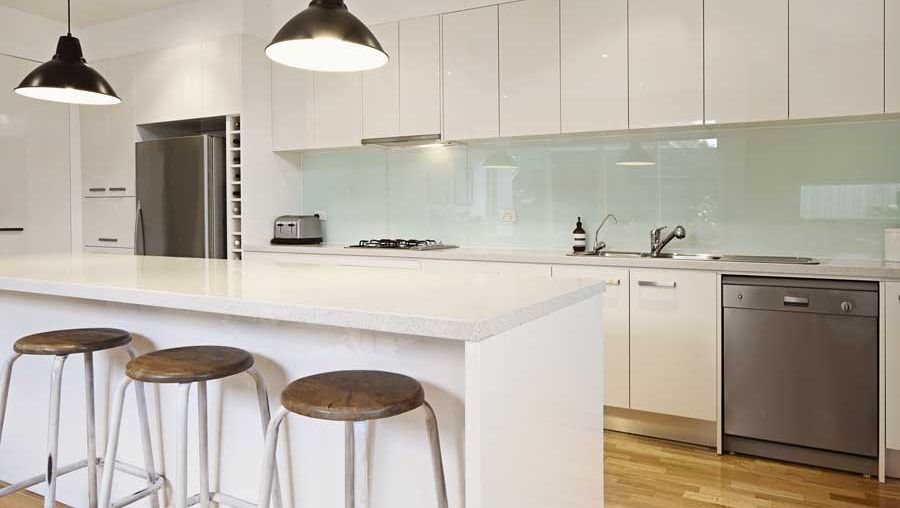 24/02/2022 0 Comments
Why you should consider a glass splashback in your kitchen
As one of the busiest and most functional rooms in the house, a kitchen inevitably gets dirty. From spills, food stains to crumbs and burn stains, the average kitchen goes through a lot. And there is nowhere that is subjected to more staining than the wall behind your worktop.
From having to endure the heat of an active hob to being splattered with everything from food to steam, the splashback area of the kitchen will eventually show signs of wear and tear. This is particularly true of tiled kitchen splashbacks. Certain tile types begin to absorb stains leading to a dulled look and less vibrant colours. This loss of luminosity has a knock-on effect on the rest of the kitchen, eventually creating a tired less welcoming environment – which is far from ideal for a room used as frequently as a kitchen. To avoid this slow but inevitable decline, we highly recommend considering installing a glass splashback.
Glass splashbacks offer a huge range of advantages including:
 The durability of glass splashbacks
When compared to the other splashback options, glass splashbacks are extremely long-lasting and durable. Issues such as hot oil splatters or hot water splashes won't affect the glass splashback. Glass splashbacks are built to withstand just about any kitchen scenario.
Staining and heat resistance
Glass splashbacks are manufactured from extremely durable toughened glass. Toughened glass is more resistant to heat damage and staining. It's estimated that toughened glass can withstand 220c of heat. Therefore anything can be cooked without fear of damaging a glass splashback.
 Low maintenance requirements
As any busy household can attest to, in between school runs, cooking and parenting there is rarely much time left to clean. Therefore a low maintenance glass splashback is a must. Due to their smooth glass surface, glass splashbacks are incredibly easy to clean. Food sparks can be wiped off using basic cleaning products. This is true of all types of dirt, making glass splashbacks an extremely low maintenance option.
Modern Aesthetic

One of the main features of a glass splashback that gets homeowners excited is its modern, sleek aesthetic. The minimalist design of a glass splashback means they fit in with just about any interior design.
Interested in having a glass splashback installed in your home? Speak to our customer service team today. We can advise on the right type of splashback for your kitchen and advise on pricing.
Feed